Nuderma Plasma-A Facial
What is a Plasma A facial treatment?
A Plasma A facials  are a type of skin treatment that involves the application of Acell + PRP.  The area of skin is micro-needled to induce a controlled microinjury then a mixture of Acell and PRP aka Platelet Rich Plasma Facial Treatment mixed with ACell is a combination of two steps:
1.) The skin that is treated is microneedled with a medical-grade Microneedle device
2.) During Microneedling the skin is soaked PRP in combination with ACell.
---
What are Platelets?
Platelets are the cells in the blood that help tissue to heal and grow new cells, and many growth factors are present in PRP. The PRP promotes your own collagen to grow, regenerates tissue, and thus acts as to naturally smooth and tighten the skin. In this way, PRP softens wrinkles and creating smoother skin texture and tone.
---
How is PRP obtained from blood?
At Nuderma Health and Med Spa we only use an FDA approved kits made by Dr. PRP to separate PRP from whole blood.  Dr.PRP is a medical kit designed for fast & efficient PRP separation. With this we obtain the perfect concentration of Platelet Rich Plasma (PRP) every time. Concentration of platelets determine the amount of growth factors per sample of blood, which in turn affects the speed of healing.  The blood samples taken from the patient are transferred to Dr. PRP Kit for platelet separation using a centrifuge. The final components of the blood will be the red blood cells, the platelets, and the plasma.  Platelet concentration determines the efficiency of a good PRP separation system regardless of the volume of Platelet Rich Plasma (PRP) produced. Dr. PRP uses a specially designed tube and a special centrifuge speed to help you get the perfect Platelet-Rich Plasma concentration.
When platelets become activated, growth factors are released into the area surrounding the wound or injury that the patient is treated for.
---
The benefits of Micro Needling the skin with PRP.
During this procedure, tiny needles create controlled micro-injuries to the skin in order to produce collagen and elastin. Micro Needling with PRP makes skin look dramatically younger because it causes a reduction in fine lines and wrinkles. Micro needling with PRP reduces hyper-pigmentation, hypo-pigmentation, acne scars, traumatic scars and stretch marks. Treatments with the micro needling are extremely effective for acne scars, especially when combined with platelet rich plasma (PRP) application.
---
What's the Science behind Platelet Rich Plasma Facial Treatment?
As part of the body's healing ability, platelets and other components in human blood migrate to the point of care. Platelets are well known to release numerous growth factors that respond to tissue injury and initiate and promote the conditions for healing.
---
How long does it last?
Normally about seven months. The amount of time that you benefit from PRP depends largely how you treat your skin. If you stay out of the sun, wear sunblock, get enough sleep, drink lots of water, and use medical grade skin products, you can expect the longest benefit from any skin treatment.
---
Can I do it more than once?
You should give the treatment some time to reach its maximum effect. Most patients will just need one treatment every six months to achieve and keep the maximum benefit. Some patients with severe skin damage can benefit from a series of treatments. Ask Dr. Spencer about packages with reduced pricing if you need multiple treatment sessions of PRP and micro needling.
---
I was told I'm not a good candidate for laser treatments. Can I do this?
Micro needling and PRP can be used on all skin types, including patients with darker skin that are not candidates for laser therapy, such as those of African American, Asian, and Latino descent for example.
---
Is the Vampire Facial® with Platelet Rich Plasma safe?
Yes. This system has been safely used in hundreds of thousands of procedures worldwide. Because this procedure only uses the platelets from your own body there is no chance for an allergic reaction. It uses your body's natural healing response system to improve your skin.  The Dr.PRP Kit uses biocompatibility certified materials and the parts undergo gamma-ray sterilization according to ISO 13485 standards. Dr. PRP separation method is intended for the safe and rapid preparation of autologous platelet-rich plasma (PRP) from a small sample of blood at the patient point of care. Nuderma Health and Med Spa also uses PRP for a number of procedures for sexual health, hair restoration, and surgical procedures.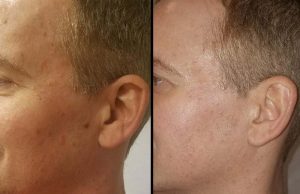 ---